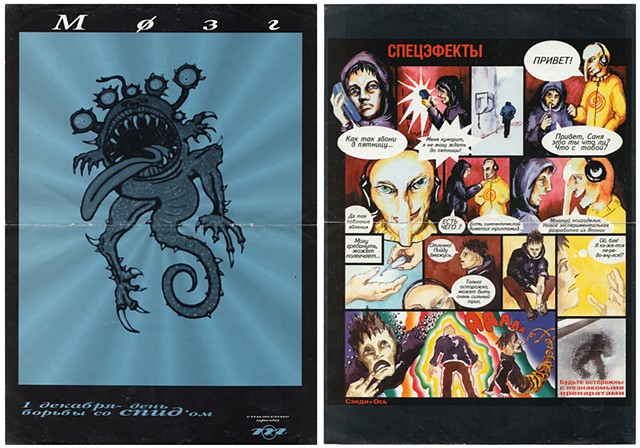 Mozg Magazine Original Poster

Offset printing, published by the Snizheniye Vreda Project, Moscow, RU / Edition of 999.
21 x 29,5 cm
1999
"SPECIAL EFFECTS"
- What do you mean to call on Friday... I'm going through withdrawal, I can't wait till Friday!
-HELLO!
-Hi, Sanya! Is that you? What's wrong with you?
-Nevermind, just side effects.
-GOT SOME?
-Yes, synthetic dimethyl tryptamide... A very powerful psychedelic. A
new experimental development from Japan. I can give you some, maybe you'll feel better...
-Cool! I'll go mainline.
-Be careful, you can have a very strong trip.
-Oh, fuck! Se-ems li-ke I ha-ve ov-er-do-se-d?! AAAaa....
BE CAREFUL WITH UNKNOWN SUBSTANCES